Considered a hidden gem in Mt. Pleasant by locals and longtime visitors in the know, the Pitt Street Bridge Park is a unique little spot where sightseers can enjoy incredible and uncrowded views of the miles of water that surround this coastal community.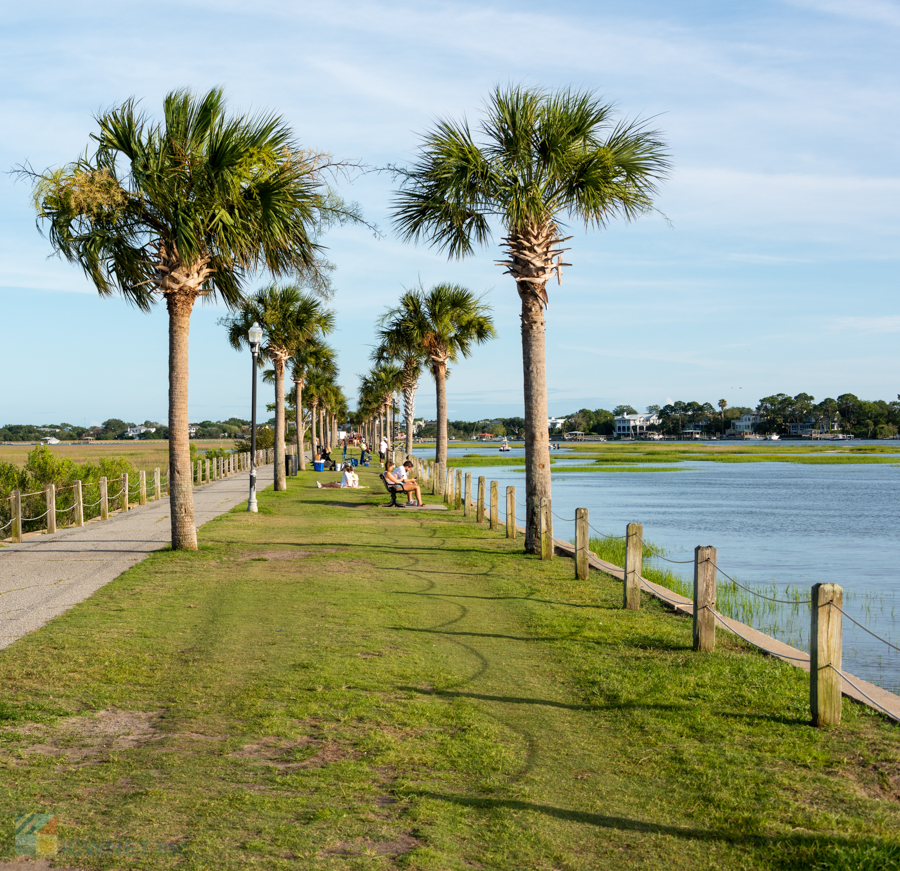 With vistas that span from Charleston Harbor all the way to Fort Sumter and neighboring Sullivan's Island, this park invites its infrequent visitors to simply pull up a bench, sit back, and enjoy the always active waterfront scene. A perfect spot for strolling, jogging, walking the dog, or just soaking up an untouched part of the Lowcountry's history, Pitt Street Bridge Park is an interesting little piece of Mt. Pleasant that will surprise new visitors, and make them longtime fans of this unique local environment.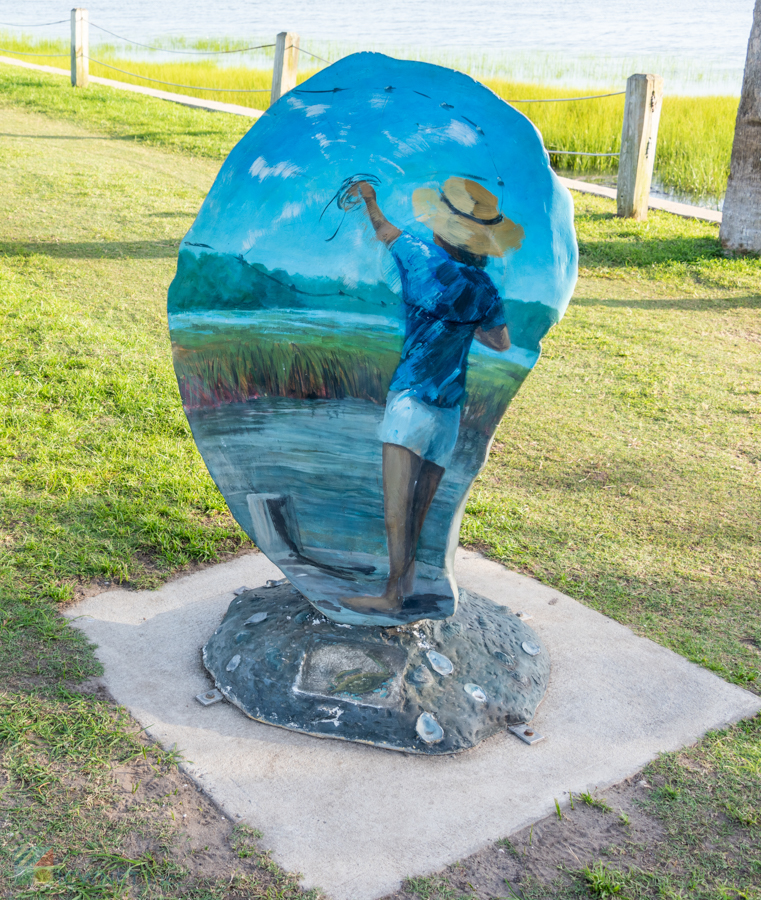 The park is not just a great spot to catch a sunrise or sunset view, as it also holds an interesting spot in local Mt. Pleasant history as one of the former and original ways for vehicles to reach neighboring Sullivan's Island. For many years, in fact, the Pitt Street Bridge was the only way to access the isle by a vehicle, although after the Ben Sawyer Bridge opened, the bridge was all but abandoned and left to the elements. As a result, approximately half of the bridge has been lost, and the rickety wooden structure extends just partway to its former island destination, essentially ending along the marshy regions of southern Mt Pleasant which border The Cove and Jeanette Creek.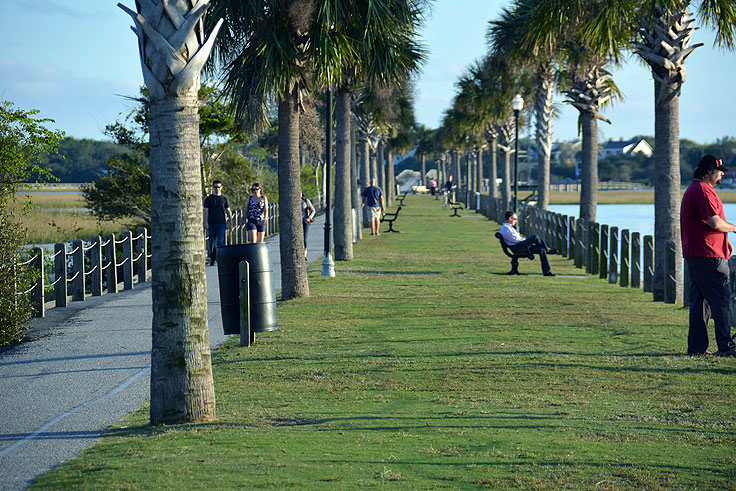 Visitors need not mourn the loss of the structure, however, as the region that's left has been transformed into a pretty greenway, which is a nice long path for avid walkers, joggers, bikers, and outdoor lovers of all varieties. Fishing and crabbing along the open Charleston Harbor waters and small mainland bordering estuaries is a very popular activity among locals, (with little competition), and the landscape itself is perfectly inviting, with a long, easy-to-traverse path which is bordered by the Lowcountry's signature Palmetto trees.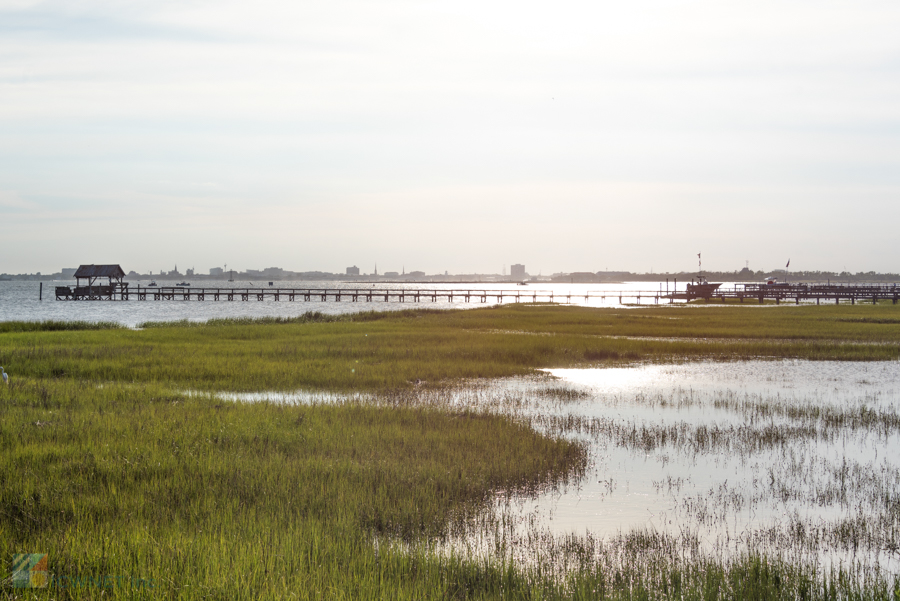 Wooden benches which overlook the water are stationed along the walkway on a regular basis, and a wooden boardwalk picks up where the sliver of land ends, extending roughly 500' feet or so into the salty marsh.
Because of this unique, undeveloped terrain, bird watchers and wildlife fans will find plenty of discoveries, which range from snowy white egrets, ibises, and pelicans, to local alligators which lurk along the less-traveled marshy waters. Kayakers and paddlers find that the park is also an ideal spot to launch on a long expedition of the surrounding waterfront terrain, while photographers and sightseers will be thoroughly impressed with the incredible views which span from the eastern edges of the harbor to the barrier island sites and attractions.
The Pitt Street Bridge Park is veritably hidden in plain sight, and is located adjacent to a waterfront residential neighborhood at the corners of Pitt and William Streets. Visitors who keep traveling along Pitt Street will eventually find plenty of roadside parking, which serves as the launching point for any exploration along this long and narrow park. Eventually, the road ends for vehicular traffic, and only the nice paved walkway is left, making any lazy stroll a peaceful expedition.
Summer visitors will want to bring along plenty of bug spray and sunscreen to tackle this long walk, and visitors are encouraged to head to the site around sunrise and sunset, as the park features plenty of benches that are stationed at both east-facing and west-facing positions to soak up the waterfront scenes.
As a favorite local destination for scenic walks, lazy sightseeing, or waterfront fishing, crabbing and kayaking adventures, Mt. Pleasant visitors are encouraged to check out this site while it's still considered a relatively secret destination, and a hidden waterfront gem, along the Lowcountry coastline.